Travel-Related Questions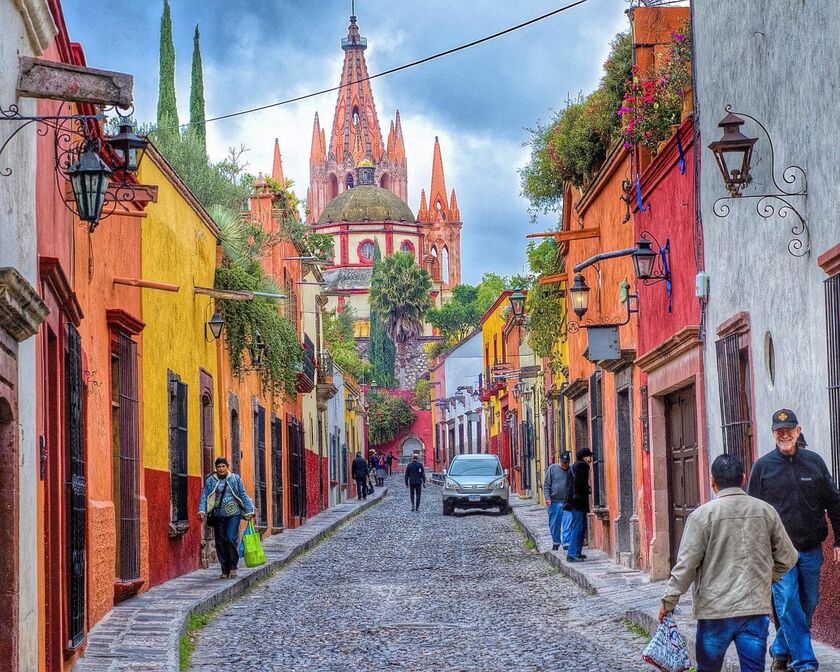 WHERE IS SAN MIGUEL DE ALLENDE?

San Miguel is located in Guanajuato State in Central Mexico, approximately 1 hour from Leon Airport (BJX) and approximately 4 hours from the Mexico City Airport (MEX). For more information on transportation, please visit our Travel page. San Miguel was voted #1 Best City in the World by Travel + Lesiure 2017.
Check out this video and this link to get a better feel for the San Miguel de Allende experience.

DO I NEED A PASSPORT TO TRAVEL TO MEXICO?
YES! As of 2007, all Americans traveling to Mexico must present a valid passport upon arrival in Mexico and upon return to the US.
IS SAN MIGUEL DE ALLENDE SAFE?
YES! San Miguel is considered one of the safest cities in Mexico, with lower incidents of violence than virtually any other area of Mexico, including the resort areas of Cancun and Cozumel. We've heard several people refer to the city as "Mexican Disneyland" because it is so idyllic and friendly. We encourage you to visit this site for lots of great information about safety in Mexico. Now, although San Miguel is very safe, we still urge you to employ the same common sense you would use in any city. Keep an eye on your belongings at all times, and stay alert when walking through the city at night.
CAN I CONTRACT THE ZIKA VIRUS IN SAN MIGUEL DE ALLENDE?

The World Health Organization doesn't think so. Although the Zika virus is present in coastal and tropical areas of Mexico, San Miguel de Allende is located in mountainous high desert where the genus of mosquito carrying the Zika virus is not found. This NY Times article provides excellent maps and information about the virus and its prevalence. By best estimates, you are (unfortunately) more likely to contract Zika in the southern US than in central Mexico. Additionally, the World Health Organization has indicated it's safe for all people to travel to areas of higher elevation since the mosquitoes who carry the virus can't live in those climates. See the official advisory here. It's also worth noting that we traveled to San Miguel de Allende in mid-January, 2018 and didn't see one mosquito on our trip. The temperatures in October/November typically drop to the low 40s at night, so the climate is not conducive for mosquitoes.
WHAT SHOULD I PACK?
The weather should be sunny and warm (70F-80F), while most nights will be cool and clear (40F-6oF). However, note that the altitude – 6,400 ft – means that you'll need hats/sunscreen during the day, and layers at night. The suggested attire for the wedding events can be found on our main Wedding page.
HOW WILL THE ALTITUDE IMPACT ME?
San Miguel is at a very high altitude - 6,400 ft - so some people may experience altitude sickness. It also means the sun will be strong (wear sunblock!) and the evenings will be cool.
WILL THE FOOD/WATER MAKE ME SICK?
San Miguel is a gourmet foodie's paradise, but you should still keep a few basic precautions in mind if you wish to avoid "Montezuma's Revenge."
Do not drink the tap water.
Bottled water is cheap and plentiful, and avoiding dirty water is the single most effective way of preventing illness. Note that some high end hotels/B&B's effectively filter the tap water provided on premises. Always check with your hotel before imbibing.
Use caution when eating street food. San Miguel has a vibrant street food tradition – tasting tacos and tamales from a street cart is simply one of the best ways to experience true Mexican cuisine. However, please keep a few things in mind before embarking on your culinary adventure:
Be very careful to avoid vendors without many customers. Crowds indicate a popular, vetted vendor and a rapid food turnover.
Give the "establishment" a cursory once-over before ordering – cleanliness is key!
Avoid pre-made juices, cold unsealed drinks, and ice, as they may contain unfiltered local water
Peel and/or wash any fresh fruit or veggies before consumption
Take it slow. If your belly isn't used to spicy Mexican flavors, you may experience discomfort and other "issues" unrelated to food-borne illness. Be nice to your tummy and introduce strong flavors and spicy food gradually.
Use bottled water when brushing your teeth.
Bring back-up meds: It's almost impossible to predict when and how you could get sick from food/beverage abroad – but it does happen, in spite of the best prevention efforts! Medicine is readily available and safe in Mexico, but we encourage you to bring your own stash of antacids, anti-diarrheals, and even antibiotics.
WHERE SHOULD I STAY?
You can reference the Suggested Accommodations section of our website where you will find a list of great hotels all located within walking distance of the hot spots in downtown San Miguel de Allende. We suggest booking your accommodations early in order to guarantee availability and the best room rates. Please email us in case you need assistance with your bookings: cristina.alanis@gmail.com & brriordan@gmai.com.
CAN I USE MY PHONE IN MEXICO?
Most carriers will charge a roaming fee if you use your cell phone while in Mexico. However, most plans for T-Mobile and AT&T won't and it will be the same as using your phone in the U.S. T-Mobile recently announced free international calls to/from Mexico for its customers (read more here). . Verizon also offers extremely cheap international plans to Mexico (read more here). Sprint also has similar daily/weekly "global passes" for purchase, though we are less familiar with their options. Alternatively, consider installing Skype, Viber and/or WhatsApp on your phone, turn off the Data, and rely on calling/texting using Wifi. Most hotels, cafes and restaurants throughout SMA offer free wifi.
WHAT KIND OF MONEY DO THEY USE IN MEXICO?
The Mexican currency is the peso, which trades at approximately 18 pesos to one US dollar. San Miguel is an extremely well developed city, with numerous ATMs available in the main Centro area. Money Changers are also available in banks, though ATMs generally provide the best exchange rates.
DO THEY ACCEPT CREDIT CARDS?

In addition, most major U.S. credit cards are accepted by most hotels, restaurants and vendors in San Miguel – and you'll incur no additional fees for using your card in Mexico. However, be sure to notify your bank of your travel plans! Otherwise, your bank may put a security block on your card.
WHAT ARE TYPICAL TIPPING PRACTICES IN MEXICO?
In San Miguel, there is no better way to say "thank you" than with a little dinero. Tourism is the city's main industry, and therefore many San Miguelitos rely on tips to supplement their livelihood.
A tip is always very subjective, but here are a few general suggestions:
– Airport/hotel baggage handlers: $1 USD per article of luggage
– Taxi driver: Not expected
– Waiters: 10-15% of tab – though service is often already included, check the bill before tipping.
– Maids/cleaning staff: $1-2 USD per day per guest
On a related note, we discourage our guests from giving tips or cash "donations" to beggars, street children, or anyone else who has not actually provided you with a service of some kind.
ARE ELECTRICAL OUTLETS THE SAME IN MEXICO?
YES! Outlets in Mexico are type A/B – the same as the US.
I DON'T SPEAK SPANISH. WILL THAT BE A PROBLEMO?
No! Although Spanish is the national language of Mexico – nearly everyone in San Miguel speaks some English. In fact, approximately 20% of the population are American expatriates! You should have very little trouble finding an English speaker if you need help.
Wedding-Related Questions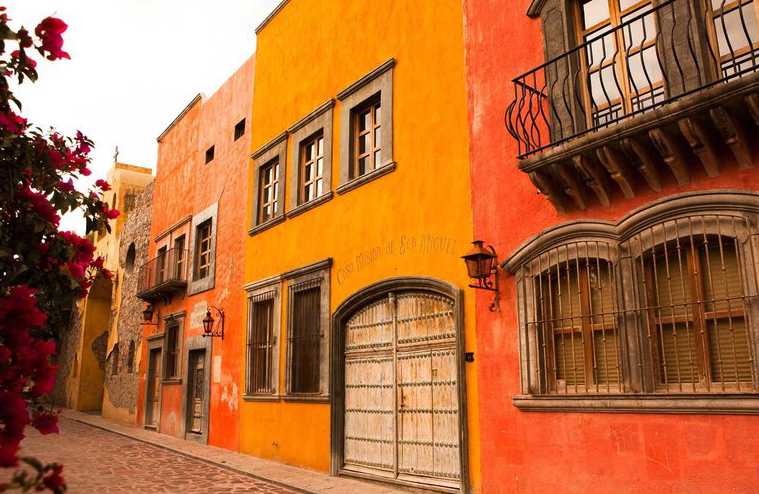 WHEN SHOULD I PLAN TO ARRIVE/DEPART SAN MIGUEL DE ALLENDE
We encourage all guests to arrive by Thursday, October 25 – this will allow you enough time to rest, relax and enjoy the many sites and activities available in San Miguel de Allende. Most guests will likely depart on Sunday afternoon/evening (October 28) or sometime on Monday (October 29).
WHAT'S THE SCHEDULE FOR THE WEEKEND?
See the Wedding page for a list of events.
IS THERE A DRESS CODE?
The suggested attire is listed under each event on the main Wedding page.
Thursday Drinks Attire: Smart Casual
Friday Dinner Party Attire: Dressy Casual
Saturday Wedding Attire: Formal
WHAT IS FORMAL ATTIRE?
Men should wear a formal dark suit and tie. Ladies should wear a long evening dress or formal cocktail-length dress. Keep in mind that we'll be walking through the cobblestone streets for a short distance after the ceremony. We do not recommend wearing stiletto heels but you can also bring a change of shoes if you like.

ARE THE CEREMONY AND RECEPTION INSIDE OR OUTSIDE?
The ceremony will be in a church, and the reception will be held outside under a tent. Immediately following the church ceremony, we will have a traditional wedding procession which should last approximately 40 min. There will be transportation taking all guests to the reception venue which will be a quick 2 min ride up the hill. If you prefer to skip the wedding procession, you are more than welcome to meet us at the reception venue at 4:30 PM (address is on our main page).
WHEN WILL I RECEIVE A FORMAL INVITATION?

Formal invitations will be mailed to you in June.
CAN I BRING A GUEST?
Unfortunately, due to venue size limitations, the guest list is limited to those individuals specified on the formal invitations.
HOW DO I RSVP? WHEN IS THE RSVP DEADLINE?
We kindly ask that you RSVP no later than August 26.